Facts
Temperature: -8 degrees Celsius
The huge snow and ice sculptures are exhibited in a special thermal tent with an area of 2,000 sqm. With this Roermond has the largest indoor ice sculpture festivals in the world. In this tent there is a constant temperature of -8 degrees Celsius. This temperature is necessary to the snow and ice art as long as possible in optimal condition.
Total amount of ice: 250,000 kilograms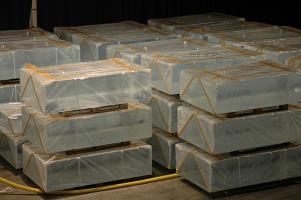 In the first half of November, the refrigerated truck bring the giant blocks of ice (about 2 meters long, 1,2 meter wide and 50 centimeters high). These blocks, which each weigh about 1500 kilograms, have been produced in a period of four to six weeks at a temperature of -30, making them perfectly transparent and crystal clear ice. After arrival of the 300,000 kilos of ice we start 'stacking' the ice. Here, the huge blocks of ice are being stacked with use of a forklift to achieve the desired height.
Total amount of snow: 250,000 kilograms
Besides ice there is also another 250,000 kilograms of snow that will be processed into sculptures. The snow is being made on location with a special machine. Using a snow blower, the snow is blown in to wooden molds, which created massive blocks of snow as a base for building snow sculptures.